DON'T COMPLAIN – TRAIN INSANE
North Shore's Boom Boxing & Fitness
Boom Boxing is a Personal Training Studio / boxing gym created to cater for all your fitness and boxing needs. Located at 4D Ashfield Rd, Wairau Valley, Auckland New Zealand. You can't go past boxing for the greatest all round level of fitness, aerobic, endurance, strength, power, speed, agility and flexibility are all extremely important to the sport of boxing. We utilise training methods to get you fit, feel better, look better and have more energy in a friendly environment. We pride ourselves on being more than a gym – we are a family.
BOXFIT  – A unique style of training which includes a combination of bag work and pad work and a vast variety of exercises from kettle bells to kick boxing and X-train conditioning. No one class is ever the same and we cater for beginners to advanced.
PERSONAL TRAINING – Helping people achieve their goals, tailored to each individual. One on one or group sessions available catered to your individual needs.
SPARRING SESSIONS (Members Only) – Held by invitation only from Jay for people wanting to take their training to the next level or to prepare for upcoming fights.
YOUTH MEMBERSHIP – Youth classes for ages 12-17. Includes bag work, pad work and a great all round cardio and strength workout in a safe and fun, friendly, family environment. Water bottle, running shoes and listening skills a must.
Who is Boom Boxing North Shore?
The name BOOM Boxing is a tribute to the late Andrew (Drew) Heperi. Passed away on 22.07.2011. Good friend and colleague. Making our dream a reality. This one is for you my friend, BOOM!
Jay has developed extensive experience, through his PT Studio, with weight loss, sports conditioning, strength training, group training, kickboxing and 'Boot Camp' programs and at times a part time counsellor and mentor.
Jay Inder is also a Licensed NZ Boxing Coach with the NZBCA, an experienced Boxing Coach who works with all types of fighters:- Corporate, professional and amateur boxers.
Jay became involved in group and individual fitness training / boxing around twenty years ago and developed a love and deep passion for helping people realise their health and fitness goals and general wellbeing. This has proven both positive and a most rewarding experience.
Being Auckland based in Wairau Valley, Jay's PT Studio is ideally located on the North Shore, just five minutes from the motorway.
Jay runs all programs at BOOM and has a wealth of experience and a passion for all things boxing, health and fitness so get in touch for personal training and boxing classes today!
"All I ask is that you leave your ego at the door and be prepared to come in, work hard and get your sweat on!"
Further enquiries phone Jay on 021 222 0805, or email boomboxingltd@gmail.com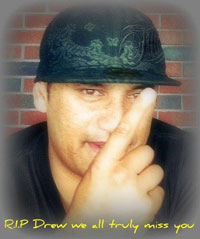 Andrew (Drew) Heperi,
gone but never forgotten brother.